"You Look Like That Fellow On TV"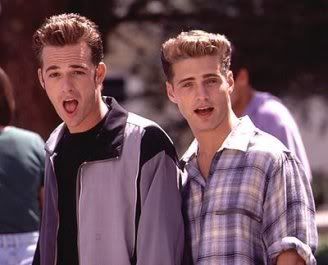 It was 1991.  Shows like Cheers, Roseanne, and Murphy Brown were destination TV, but none had as big an influence on my personal appearance as Beverly Hills 90210. 90210, as I affectionately referred to it, was in its second season, my sideburns were in their first.
I was working as a waiter (or wasting my life, as my father called it, since I should have graduated from college the year before, but had only managed to earn 18 credits to this point) in a pretty upsacle place where we all sported a quasi-formal look with green jackets, black pants and bowtie.  What I'm trying to say is it wasn't Friday's or Applebees, so we didn't wear "flair" or anything like that.  My sideburns were my flair.  Well, they would be my flair, when they grew in all the way. 
As a guy who was trying to grow sideburns, and whose conversations during the Thursday lunch shift always seemed to start out with the question, "Did you see 90210 last night?" I should have expected to be called Brandon or Dylan.  And considering my friends, I guess I should have expected to be called those names in a somewhat derisive fashion, but it never bothered me.  My best friend/nemesis at the time (let's call him Shaska Watley) took particular pleasure in the ribbing I received.  "They'll all see when they grow in," I thought to myself, "then they will all understand".
Anyway, one night I was waiting on this older couple, and as I'm taking their drink order she slaps her husband's shoulder with the back of her hand.
LADY:  Doesn't he look like that fellow on TV?
I smiled immediately and almost involuntarily. Let's just say I couldn't have stopped smiling if I wanted to. I looked around to see who else might have heard and saw Shaska standing right behind me. I beamed even more.
HUSBAND: Who?
LADY: You know, that Fonzie character.
I heard Shaska laugh behind me. My new nickname, Fonzie, lasted about a week, which coincidentally was one week longer than my sideburns did.
Ironically, six years later and sans sideburns I got a job as a stand-in and photo-double for Luke Perry (who I never shared this story with) while he was filming a mini-series in Arizona. So when it was a really, really long shot they used me instead of bothering him. Granted, in the movie he transformed into an alien, so I was in alien make-up for those shots, but it is ironic, nevertheless.
Here we are at base camp:


They told me not to do anything with my hair, that they would take care of it when I got to the set. They didn't. That coupled with the fact I am wearing a hospital gown makes me look like a Make A Wish kid that wanted to meet Dylan McKay.
© copyright 2009