D-to-the-Ouche-Chill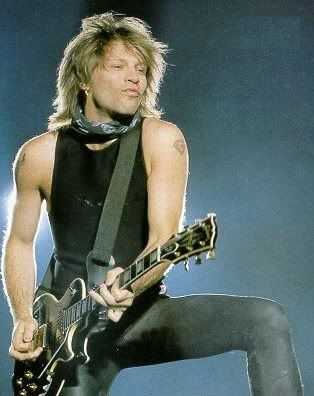 TRUST ME.  Scroll down and read the story before you click on the link below.  It is vital that you understand exactly how serious I was at the time.  When you do click the link, a new window will open.  In that window, you should see a blue button that says 'Download Now.'  Below that is a smal PLAY (>) button.  Click on that, and the song will play.  Sorry, I was looking for a more user-friendly way to get this on here, but that's the best I could find.
According to the cassette I found in my parents' house, I performed this rendition of Bon Jovi's Living On A Prayer on August 11, 1987.  Here's the backstory (let's count the douche-chills).
I was 19 (1), walking along the boardwalk in Wildwood, NJ when I noticed a new store among the familiar tee shirt shops, arcades, and pizza places.  It was called Recording Studios of America and it was unlike anyplace I had ever seen.  It worked like this, you go in and choose a song, then you are led to a glass recording booth where your song choice is piped in through a pair of headphones, minus the vocal track, and you sing along.  It 's a lot like karaoke without all the booze and you get a tape of yourself at the end.
I had walked back and forth in front of the place (2) before I had gotten up the nerve to go in and sign up (3).  I probably would have been better suited to sing a ballad, but I wanted to sing something cool (4).  So when I saw Living On A Prayer in the catalogue, it was a no-brainer. 
Now there was a bit of a wait, so I had time to get more nervous and smoke.  And smoke… and smoke.  I lit new cigarettes off of the ones I had just finished, just waiting for my turn.  It was at this point that the girl who worked there came outside and found me, and told me I was gonna be up in about 5 minutes.  And I remember my reply like it happened yesterday.
"That's cool.  I'm just trying to smoke as many cigarettes as I can before I go on so I can get my voice really raspy like Jon Bon Jovi's" (5)(6)(7)(8)(9)(10)
I think she said something like, "Okay, five minutes."