Wanted: Suicide Bomber. Must Be Detail Oriented.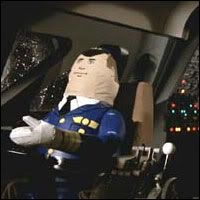 In light of the recent success/failure of the "Underwear Bomber," I have just a few tips for al Qaeda.  Now I'm not going to give away all our national secrets like our illustrious media did in the weeks and months following 9/11, when they broadcasted just how vulnerable places like Hoover Dam and countless nuclear plants across our great land were.  I just have some common sense stuff.
First.  Terrorists, feel free to mix in a suitcase when you travel by plane.  Buy one at a fucking thrift store, it doesn't matter.  If you're successful you're gonna blow the shit out of it anyway.  Hell you can even fill it with clothes from the thrift store.  Pack it full of dolls, or copies of Loni Anderson's autobiography, My Life In High Heels, who gives a shit?  Just don't go to the airport without a suitcase because, believe it or not, that is one of the things that security has been trained to look out for. 
Second, when confirming your flight in the days prior to your plot's zero hour, use the words that we westerners use to describe letters to the airline operator when spelling your name or repeating your confirmation number.  For example, instead of saying, "D as in Die infidel!" may I suggest, "D like duck."  Or "U as in umbrella" instead of "U for Uranium enrichment program."  Also, if your name sounds even slightly Middle Eastern, your confirmation number will contain the number '9.'  This is meant to trip you up.  You must refrain from saying 'niner,' as that will tip off the operator that you have attended flight class at one time.
Lastly, when interviewing to be an al Qaeda operative, remember that you are interviewing them as well.  Make sure they are a good fit for you too; don't just accept everything they throw at you.  For instance, if the interviewer asks if you would have a problem sewing an explosive device into your underwear, take a minute, let your initial enthusiasm at the prospect of killing Americans dissipate, and realize that maybe this new organization you are so eager to join may not be as concerned with your upward mobility as you first thought.  At least demand a First Class seat.
COMING SOON:  My tips for the US Intelligence community on stopping the 'NEW' detail oriented suicide bomber.  Again, just some common sense stuff.