Time Flies When You're… Dead (Da-Da-Dah)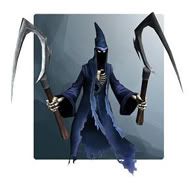 1. Aaliyah
2. John Ritter
3. Gene Siskel
4. Princess Diana
5. Kurt Cobain
6. Lee Majors
7. Pope John Paul II
I don't know what happens when a famous person dies. Time seems to pass at the same pace for the rest of us trudging through our daily lives, yet for them time seems to accelerate. How many times has someone brought up the death of a celebrity in the course of normal conversation and you go to your computer to see when exactly they died only to see that they've been dead much longer than you thought. It happens to me all the time, and I know I'm not alone.
Look at the seven names at the beginning of this post, and think about how long you think they have been dead. (The year of each of their deaths can be found below.)
I've come up with two explanations for this phenomenon of the "rapidly passing time of the dead celebrity" (wow, that just rolls off the tongue). The first is that we associate certain celebrities with certain memories and events in our life, and our vain subconsciousness likes to lie about our age. Think about it, I know the first thing that comes to my mind when faced with the knowledge that someone has been dead longer than I thought is, "Man, I'm getting old," which is not an easy thing for any of us to say.
Secondly, (and less philosophically) in the case of a shocking celebrity death, like many of the ones listed above, the memory of it is more vivid in our minds, thus seeming that it happened more recently.
Okay, here are your answers:
1. Aaliyah – 8/25/01 (that's nearly 8 years ago)
2. John Ritter – 9/11/03 (almost 5 years)
3. Gene Siskel – 2/20/99 (over 10 years now)
4. Princess Diana – 8/31/97 (it'll be 12 years this August)
5. Kurt Cobain – 4/5/94 (15 years ago??)
6. Lee Majors – He's still alive. (c'mon he's the Six Million Dollar Man for Christ's sake)
7. Pope John Paul II – 4/2/05 (yep, 4 years already)
And guess what, that little Carol Ann from Poltergeist has been dead for 21 years now. Feeling old yet?