Somewhere Under The Rainbow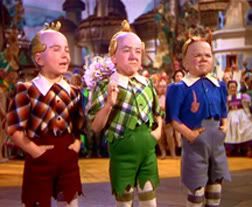 Today, Little People have asked for an FCC ban on the word "midget," likening it to a racial slur. Okay, I get it, but remember Little People come in many different styles.  Let's just say the Little People rainbow has many colors.
Are each of those groups now signing away their right to get even more angry if the word midget is proceeded by such words as chink, spick, gook, nigger, or fag? Doesn't a little person of Jewish descent have a right to be doubly mad if they are referred to as a "midget kike?" And what about diminutive dykes, dot-heads, crackers, wops, micks, camel jockeys, and retards?
But Soupy, you're being about as mean as Mad Martigan. Aren't you worried about a midget boycott?
Not really, remember I don't actually sell anything. And when I do, I doubt I'll have shirts their size with a big enough neck hole.