Idol Finale, Finally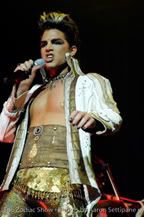 The American Idol final pairing has been set, and now the winner seems more obvious than ever.  Despite all of the AI producers' and judges' efforts to force us to see Adam Glam-bert as some sort of rock god rather than the Liza Minelli-esque diva we've watched prance around stage lo these many weeks (many, many weeks), Kris Allen is your new American Idol.
It's simple mathematics, really.  Every week one of the judges says, "This is a singing competition."  It isn't.  It's a test market or a really big focus group — an 88 million vote focus group, and they get to see which one of these artists will be the most popular.  We're paying them to do R&D.  Last night, less than one million votes separated Kris and Adam.  They never told us who had more, but even if Kris was in second, I have to believe that the vast majority of the people who voted for Danny Gokey will vote for Kris over Adam.  Do you think middle America is going to elect our first black President, and crown Adam the American Idol in the same year?  Oh wait, is ACORN involved in the AI voting too?
On a side note, was Kara hired to make Paula Abdul sound more intelligent? I have watched every year of American Idol, and I will say now unequivocally, if Kara is back next year I will not be watching. Well, I probably will, but I would lie about it. Her voice is a boner killer (although rare, if you experience an erection lasting four hours, call your doctor, or watch a compilation of Kara's comments on American Idol this year).