Pass The Nuts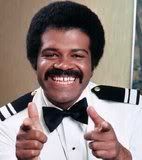 I know I shouldn't be giving this shit away for free, but I had a winning TV show idea that I just had to share. 
It's about a bartender. Maybe he's the best bartender in town or maybe he just knows in his heart that he's been chosen for something special.  Something big.  Bigger than a bartender even.  Fame?  So he hires a film crew to follow him around and document his every move (especially at work); his rise to stardom if you will.
Maybe he shares a knowing look at the camera if someone says something stupid.  And there will definitely be times when his co-workers and regular bar patrons are interviewed by the camera crew. 
Now for the twist, the protagonist isn't really destined for greatness at all.  And everyone seems to know it but him.  In fact he is kind of a pathetic character — a joke even.
I think I can sell it to the 'People who brought you The Office and Parks 'n Rec.'  I'll call it The Bar or Happy Hour or something cool like that.
P.S.  If you think I picked the picture of Isaac from The Love Boat just because it's Black History Month, I resent how well you know me. 
('
')