Magic-Bullet-Theory-Comin'-Up-With-Benedict-Arnold-Mother-F'er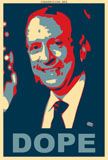 So Arlen Specter shed his red tie in favor of a blue one today.  No biggie.  People are saying it's so he has a better chance to win re-election.  That's like saying your buddy came out and said he was gay so he could suck more dick and maybe get fucked in the ass.  Hello, exactly.
I don't know what the big deal is.  Yes the Democrats get their filibuster-proof Senate, but it looked like "il Spectre" wasn't gonna stand in anybody's way this term anyway. 
Hell, I didn't even realize he was a Republican until this year (It's like not knowing that someone drinks until you see them sober) .  Remember Ira Einhorn?  One thing I left out of that entry was that he was represented by a young Arlen Specter (I was saving that for this post), who managed to get him released on $4,000 bail. 
Now all the Pennsylvania Republicans have to do is follow their senior Senator's lead and switch parties…  So we can vote his haggard ass out in the Primary.