Don't Push Me 'Cause I'm Close To The Edge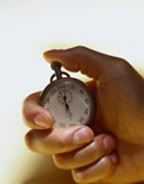 I'm not a motivational speaker.  I'm certainly no life coach.  I'm not particularly observant or sensitive to the human condition.  I've just made my share of bad decisions in my life, and I think I at least have a partial answer to the question, "Why?"
It's all about pace.  We all have an internal clock and a pace that we are comfortable with.  Whether we are eating, working, reading, whatever, there is a pace that we are most productive at, and I noticed that when I allow something or someone to dictate my pace, trouble usually follows.  I've made decisions with very little information because I thought that a quick decision was necessary.  Not a real good idea.
Have you ever been golfing and another foursome catches up to you on the tee?  You feel rushed.  How was your tee shot?  Or, have you ever been golfing with someone who is very slow and methodical compared to the brisk pace you generally play?  For me, the results are equally poor.  Why?  Because I allowed someone else to control my pace.
Hell, I just broke my ankle this past weekend rushing to get inside to a ringing phone.  Now I decided, upon getting phone service, to pay extra for Caller ID and Voicemail, so why did I feel compelled to get to the phone before it stopped ringing?  I don't have an answer for that yet, but knowing enough to ask the question seems to be a pretty good start.