The Bible Revealed: Digging Deeper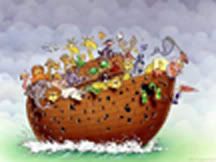 I am also thinking about making this a regular feature. I know from my own writing how editing can really change the tone of a piece. Too much editing can have the same effect as not enough editing. Even the Bible is not immune to this phenomenon.
Recently, I was cleaning out my attic and stumbled upon some original (let's just call them) scrolls that appear to be very early drafts of many books of the Bible.  And I have to admit I was a bit surprised at what I read, and I can't wait to pore through them for more examples
Genesis 2:21  (The Creation of Eve)
While Adam slept, the Lord God removed stem cells from the area surrounding Adam's ribcage and created a clone, and after a few alterations she was called Eve.
Genesis 6:19   (The Story of Noah)
God told Noah, "Bring a pair of every kind of animal — a male and a female — into the ark with you and keep them alive during the flood."
"What about ducks?" Noah replied, "I mean, I'm just asking, do I really need to worry about them?  It just seems to me like they should be okay anyway."
Matthew 21:12  (Jesus Gets Pissed)
Jesus entered the Temple and knocked over the tables of the money changers and proclaimed, "There shalt be no gambling in my Father's house! Except for Bingo on Monday nights, and Father Callahan's raffle.  But that's it."