Windows Are The Eyes To Your House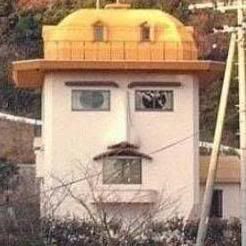 Seriously.  I was deep in the throes of an 8 hour mushroom-induced euphoria (years ago) and the house across the street was trying to come into my house.  It was announcing its intentions to me via its mouth (the door) and staring right through me with its piercing windows (double-hung, I think), but it wasn't scary.  It was funny as shit, and I laughed for either 3 hours or 15 minutes.
 It never fails, I've done mushrooms (or 'shrooms as the kids call them) twice, and twice I ended up eating my weekend's worth in 45 minutes while I was waiting for the first mouthful to kick in.  Then… BANG!  That's not good.  Well it was good for me, just not for the three other people I was supposed to share them with who couldn't stay awake long enough for the fungi to arrive.
Now I'm the "fun-guy." (the trippin' by myself fun-guy).  At least until the next day when my friends wake me to ask if I got the bag the night before. 
"I got good news and bad news."
I forget what my point was.  I'm pretty sure I wasn't just trying to sound cool by sharing a drug story (although I used to love movies and television episodes with heavy drug overtones, like a very special  Diff'rent Strokes – not the one where Dudley gets molested by Mr. Carlson — and Stoned (1980), an After-School Special starring Scott Baio), but you never know.
I remember, I think I was trying to work up enough steam to complain how every pair of reading glasses I buy are completely askew when I put them on.  I think I have a bump on the bridge of my nose that fucks it all up and won't let them sit straight on my face.  Oh well, that was a long way around, but at least you learned to never go halfsies with me on a bag of mushrooms.