Who's Up For A Game Of ObaMA-NOPOLY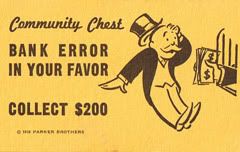 You won't see that Community Chest card in ObaMA-NOPOLY
My son and his friend were playing Monopoly the other day. He ran upstairs to tell me that they had both lost because they both ran out of money. I've never heard of that happening before so I asked him, "Are you sure you weren't playing ObaMA-NOPOLY?"
So automatically, I started wondering what a game of ObaMA-NOPOLY would be like. I'm sure there would be Chance cards with things like:
- Free Health Care for Everybody! Please pay $2000.
- No More Tax Breaks for Corporations, Companies pass expense along to you, Pay $500.
- Elected Chairman of the Board – You are now hated by the rest of the players. Lose a turn for excelling
You can't buy Park Place or Boardwalk or any of the green properties because the Chinese have already bought them and are building hotels.
In addition to the Banker, there is another entity called the Government and it actually controls the bank.
Although you think you are able to afford the light blue properties, the only one's you can even get a mortgage on are Baltic and Mediterranean, and of course you have to go through Tony Rezko to buy houses.
Beware, once you think you are doing well, and put a hotel on Baltic, here comes William Ayers to blow it up.
Of course if you purchase any of the Utilities, you will need some serious TARP money to "GREEN" them up.
When you pass GO (which is now just "O" complete with his "logo"), you still collect $200, but you now have to give $150 of it to the Government to be split up among the other players.
And if you bear any responsibility for the attacks of 9-11 or on the USS Cole, you are instantly pardoned if you land on the Go To Jail space.
I posted this once before for like 4 minutes, thought it was so clever that I deleted it immediately and decided to design the game. Googled it today, and there are already so many references to ObaMA-NOPOLY, and one toy manufacturer is already in the process of making it. So it's back here.