Twilight Spoiler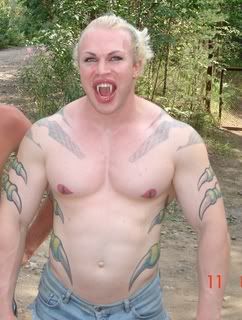 Okay, I actually only saw about half of the first movie. That's when I realized it was just a further example of the pussification of the American vampire, and walked out in protest. It wasn't really much of a protest since I only walked out of my wife's cousin's living room, but the people there knew where I was coming from. Yet even in that first half of the DVD, I saw enough to know how this saga has to end.
Those of you who saw the movie will no doubt remember the scene, pretty early on, where a vehicle careens toward Bella in the school parking lot, and Edward manages to stop it with one hand and presumably loads of vampire strength (which is third only to old-man strength and retard strength).  This is the point where Bella starts suspecting there is something strange about Edward, and from there the whole bullshit vampire guy/regular girl love story springboards.
I contend that Edward was actually unable to stop the car.  If he even tried.  And Bella spent the rest of the first movie (book) as well as a slew of sequels lying in a coma at the local hospital.  Let's face it, Edward is really just a brooding, pasty faced dickhead, but thanks to Bella's coma induced dreams he has become a dashing vampire.  Yet even in her fantasy, she must have realized that Edward seemed to swing from the other side of the plate, so she created Jacob the Werewolf.  He would certainly tend to her more animalistic and instinctual needs, while Edward works on getting his hair just so.
She has to be in a coma and imagining all of this.  It's the only thing that makes sense.  How else would you explain that she (A GIRL) would have any kind of chance with Edward?  Besides, I'm pretty sure that vampires and werewolves aren't real.  And I've been to Seattle more than a few times, so I think I would know.
('
')