Burn After Reading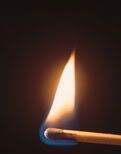 Sorry I haven't posted in a while.  I got really busy at my day job for a few days, and then as time went on, I kept thinking that the next post had better be really good to justify not posting anything in days, then well it just snowballed and I got all verbally constipated with the pressure I put on myself.
So here's a crappy ice-rebreaker to help get me back in the swing of things.
PS Has anyone ever tried to throw away an old trash can? You keep putting it out at the curb and they never take it, or they empty it if you're dumb enough to put trash in it. It's hard. I guess you could put a note on it, but what language would you write the note in?