The Traveller's Tee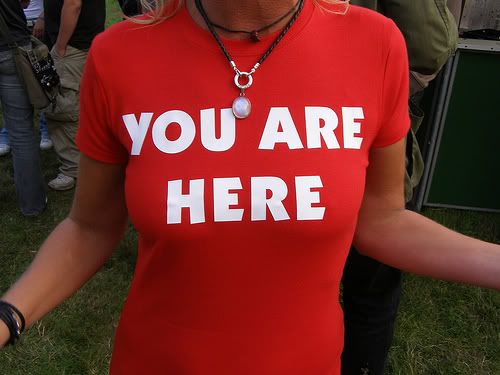 For decades the tee shirt has told people where we've been. Concerts. Vacation spots. Historical events. They have proven a powerful advertiser and marketing tool. Hell, tee shirts have even chronicled the places we haven't been (MY PARENTS VISITED THE SAN DIEGO ZOO AND ALL I GOT WAS THIS LOUSY TEE SHIRT).
Wait. Is this really a post about tee shirts? On Tee Shirt Soup? Holy shit.
It has always been the original and eventual intention of this site to bring to you the finest and most original tee shirts I could provide. Little did I know that I would one day present to the world the ultimate tee shirt — the one tee shirt to replace hundreds. No longer will you have to get a tee shirt that says "ONLY SAILORS GET BLOWN OFF SHORE. CAPE MAY, NJ" or "I SWIZZLED MY MOPED IN BERMUDA" to brag where you've been.
My shirt (Can you tell how proud I am of it?), which will most likely retail for about $69.99, depicts a map of the entire world, and comes with 100 push pins and a vial of rubbing alcohol so you can show your friends where you've been. Everywhere you've been. No more waiting in line in cheesy tee shirt shops; just stick a pin in your abdomen, and everyone will know you've been to the Outer Banks. I have single-handedly innovated customization, and have literally put the power in your hands.
You can even lie about where you've travelled, who's gonna stop you? In the old days, you actually had to go someplace to get a shirt from there.  Then came the internet, and you could order a shirt from the comfort of your masturbating chair.  My shirt requires neither a boarding pass nor WiFi, although I do recommend a shot of Cuervo Gold before you update it.
Do you suffer from a bit of the ol' Wanderlust? Don't worry, you will also be able to purchase more pins separately.
You're probably wondering why I am sharing my vision with you now, before I have the shirts printed up. The reason is twofold. First, to whom much is given, much is expected.  I feel a tremendous sense of responsibility to the world on this one.  And secondly, if I can save you from buying a tee while in Branson, Missouri in the hopes that you'll put that money aside until my shirt hits the market, then that's not such a bad thing either.