The Blumpkin Batch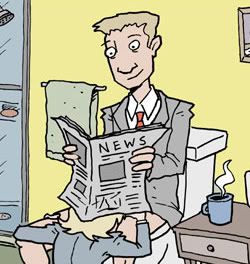 I firmly believe that I can attract tens, hundreds, or even thousands of people to my blog by being petty, ridiculing people, or talking about what I hate.  Talking about my fears might get me a few more, but if I want the really big numbers I need to offer people something positive.  Immediately my mind starts working on that belief, and I conclude that if I can put the two together then EVERYone will read my blog EVERYday.  They will quote my posts around their office water coolers, governmental policies will be amended based on my observations, and I would have done my part to change the world.
Why do I care?  I just do, so here goes:
I "positively" hate getting paid bi-weekly as opposed to semi-monthly.  It fucks up my whole budget.  Budget?  Who am I kidding?  I can't put together an effective budget because I don't even know how much I make a month.  Most months I get paid twice, but sometimes I get paid three times.  I can average it out, but that's not real.  Furthermore, my regular monthly bills are due on the same day each month (my mortgage is due the first, my car payment is due in the twenties, etc.).  If I got paid on the 1st and the 15th, it would sure as hell be a lot easier to pay them on time.  As it is, one month I get paid on the 3rd and the 17th, and a few months later I'm getting my check on the 7th and the 21st.  It fucks me all up.  (I would love to see a study comparing the credit scores of people who get paid on the 1st and the 15th with those getting paid every other week.  Maybe it doesn't matter to most.  Maybe it's just me.)  Also, when you get paid semi-monthly, your check is a bit higher than your bi-weekly check would be.  I suspect ADP is behind this, but I have no evidence to support that, and I probably shouldn't have even said it, but oh well.
You can't un-ring a bell.
Here's another thing I'm not exactly fond of.  When I am alone with my thoughts (can't fall asleep, driving, updating this blog), my mind seems only to latch on to memories of embarrassing moments, or things best left forgotten.  Wonderful memories like my wedding day, or the birth of my children never rise to the surface, and I'm left contemplating the time I hooked a drive on the tenth hole, never yelling FORE!, and it connected with the jaw of a golfer on another hole.  Dude never saw it coming and he went down hard.  I honestly didn't realize it was going that far left, and I did drive over to apologize, but pussied out when I got there.  Well my uncle actually told them that we didn't see where the ball came from.  But I let him.  That memory haunts me, and probably with good reason.
But the memories that seem to plague me even more are those douche-y moments where, more often than not, I was trying to impress or shock someone.  Imagine me trying to do that.  I know, huh?  I remember telling people (people I was fairly comfortable with) that I figured out how I want to die.  I would just walk up to them and say that out of the blue.  And I would wait for them to say "how."  I had to get the "how" or the whole exercise was pointless.  Then I tell them, "I wanna be sitting on the toilet, taking a dump and getting a blowjob (I've recently learned this is called a 'blumpkin'), then I want to shit, cum and sneeze at the same time."  Then I would laugh, usually louder than the other guy, and walk away feeling cool and shocking.  I was a loose cannon, people couldn't predict what I would say next. 
In hindsight, I guess they could have predicted it would be "positively" douche-y.