Sunday, Monday Entourage… Tuesday, Wednesday Entourage…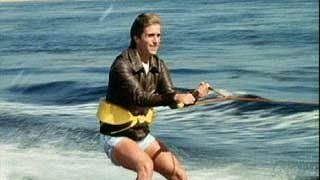 I thought I had seen every episode of the HBO series Entourage, but I must have missed the one a few seasons back where a fisherman caught a tiger shark off the Santa Monica Pier, and then rather than killing it, it was agreed that the shark would be kept penned in a circular net a few hundred yards off the beach, and then Drama challenged his "Baby Bro" to jump over said shark on waterskis, and E thought it was a bad idea, but at the last moment bumped Turtle out of the boat's driver's seat, and well you know the rest.
In Season 6 (the Kiss Solo Albums Season) each of the guys is itching to prove they can make something of themselves, begging the question, 'Is this Entourage or Ensemble?' Either they've watched Vinnie chew on scenery for the past 4 seasons (for whatever reason, he didn't seem nearly as bad in Season 1) and figure they should distance themselves, or they just figure 'hell, if he can do it…' Even Ari's assistant Lloyd demanded a promotion. I guess he realized there'll be no Emmy for Mr. Piven this year when Ari actually told E he was proud of him, and they both shared a very uncomfortable smile over a cell phone.
My wife, who has appeared as the 'voice of reason' in a few of my posts (I try not to include too much reason here) never liked the show. I tried to convince her that she just didn't know what she was talking about, maybe the show was too inside for her. Well, and I want this next part to sound as bitter as possible, if Entourage is an accurate depiction of the Hollywood Dream, then I couldn't be happier that the years and money I spent reaching for that life proved fruitless.
In the interest of full disclosure, I didn't try all that hard. Remember I am a very lazy person and my ADD was undiagnosed at the time. Plus, 'not trying all that hard' is a neat trick I picked up to protect my ego from a deluge of rejection.
Anyway back to Entourage jumping the shark. Ironically, for me that moment occured due to something outside of the show itself. HBO ran a documentary made by a pre-Vincent Chase Adrian Grenier called Shot In The Dark, in which Grenier is trying to reunite with his estranged father. The story itself may have been true, but the whole think just smacked of a cheap publicity ploy on his part to get himself seen. I have no problem with finding creative ways to get "discovered" or ahead, and they should be rewarded. This one seemed so transparent to me though, and I couldn't believe anyone was fooled. I guess that's the problem with being so insightful and having such a keen awareness of human nature, I see through everything. And he did really come off as a dirtball in it.
Fair or not, that's when the show jumped the shark for me, but I've read other people's reviews that say it happened at the end of Season 1. I watched Happy Days 'til the bitter end, so I'm sure I'll be sitting in front of my TV on Sunday nights until HBO pulls the plug on this one.