Pushing My Easy Buttons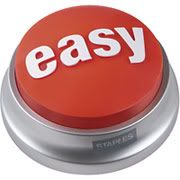 Let's talk office supplies. 
I literally could spend hours in Staples.  Whenever I'm there I try to think of businesses I could start so I can avail myself of their sales order books, make-your-own-magnetic-business-card kits, or those cool clipboards that open up so you can store documents inside of them. 
I bought an eraseable calendar which is mounted behind my desk.  I had to have it, but I'm nowhere near organized enough to actually use it.  In fact, I haven't updated it since February 2008.  I know this because there are 29 days on it, but I guess it could be from 2004 too.
There are binders of every size and color, tabbed dividers for the binders, binder clips.  I love binder clips.   LOVE!  There's sheet protectors, fire-proof cash boxes, and desk sets.  It's organization heaven, and I guess my slovenly ass craves that on some level.  But it's not all milk and honey…
Juxtaposed with my unconditional adoration of binder clips is my utter hatred for paper clips.  I fucking despise paper clips, especially colored ones.  If I need to attach anything I'll use a staple, thank you very much; and when I can't, there is always my first love — the binder clip.  I throw 10 to 15 paper clips in the trash every day.  They're as bothersome as dull pennies, and bottom line, I don't trust them to keep my documents together. 
I would rather use a hole punch and a length of orange yarn to bind my reports.  Paper clips are like betamax tapes compared to the blu-ray disc that is the binder clip.  Where do these office stores even get them from, the village blacksmith?  Fuck paper clips.
Just wanted to get that off my chest.  Up next:  rubberbands.