Knoebels: The Bad And The Ugly
The banjo music that I heard was either off in the distance or in my head. And it weren't no Roy Clark ner Buck Owens good-time Hee Haw banjo pickin' neither (no Misty Rowe or Gunilla Hutton sittin' on bales of hay slapping their knees to the tune).  No, it was a haunting, uneasy kind of banjo sound.  Like it was being played by a thick-fingered illiterate with dead rabbits in his pockets.
… or some city-slicker with a gun to his head.
As I navigated our minivan through the campground toward our cabin, the banjo was replaced by the pounding, thrashing guitar of white supremacy.
Dude, is that Hatred Rock?  Turn it up.
Nestled in the bosom of Pennsylvania, lies Knoebels — an old fashioned amusement park and campground that was described to me as quaint and "cheap as hell."  I was all in, and so was my sister and her family and our friends and their children. 
Forget that I banged my shin on five different trailer hitches walking from my van into the park; I was determined to have a good time.  Even if having a good time meant taking pictures of all the local oddities I passed with seemingly every stride.
Welcome to my Knoebels' weekend photo journal: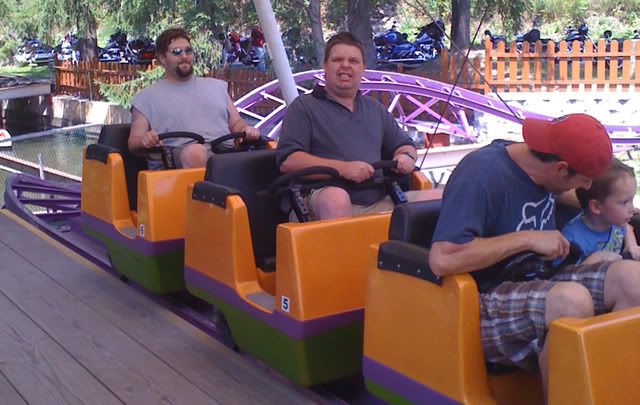 In case you're wondering why those two guys look so crammed, it's a kiddie roller coaster.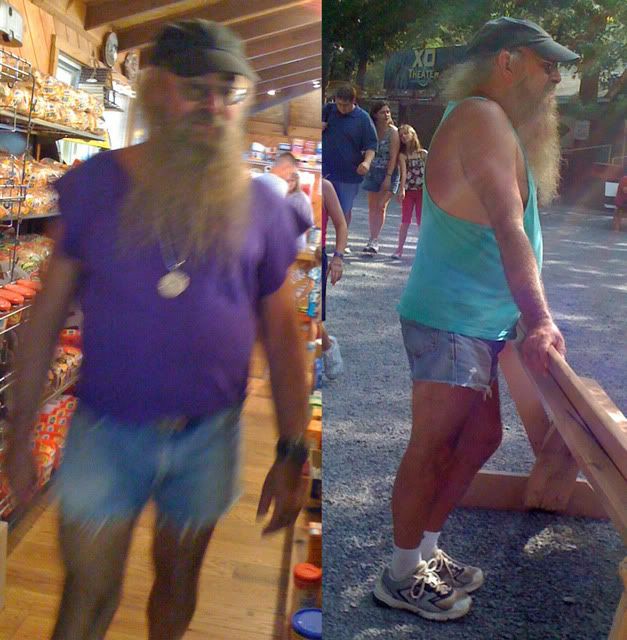 These were both taken the same day. I actually saw him in a black shirt later that afternoon. A little odd, unless he's triplets.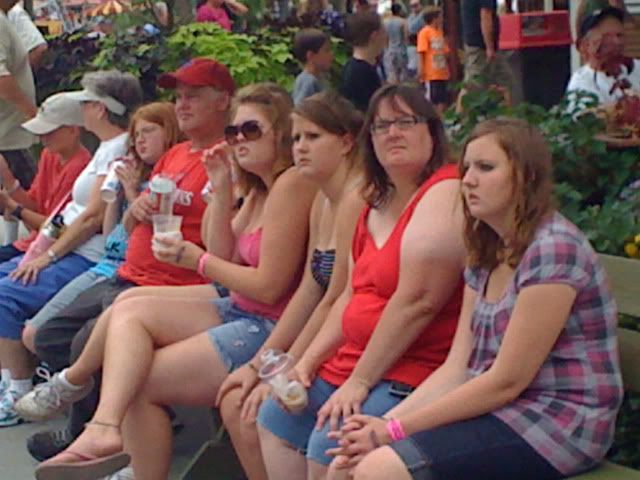 The local talent.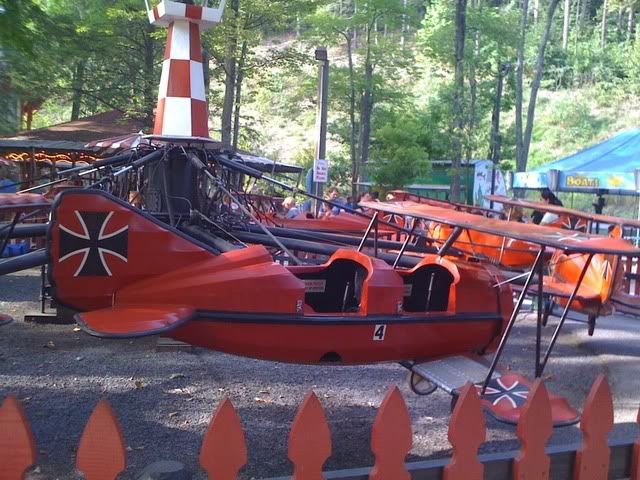 There were rides for the children of the Aryan Nation.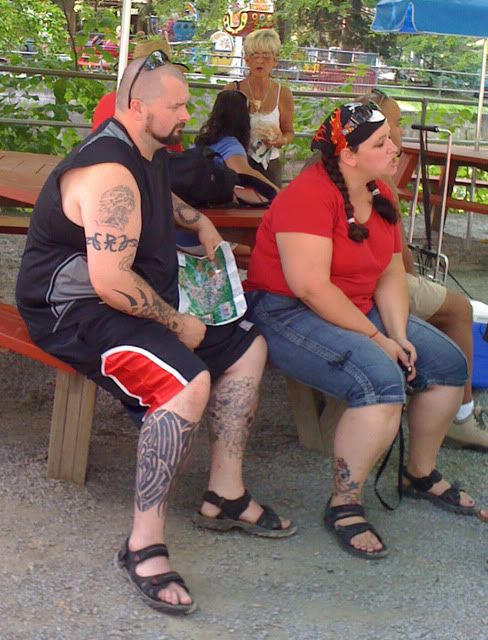 They loved that Red Baron ride when they were kids.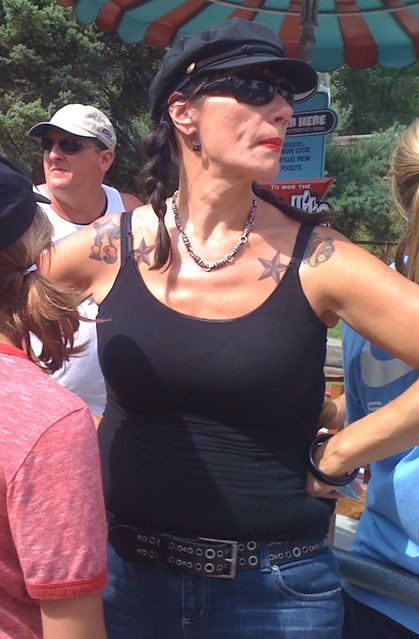 Hey, it's Peg Bundy from Sons of Anarchy
Some strange tattoos and wardrobe choices were the order of the weekend: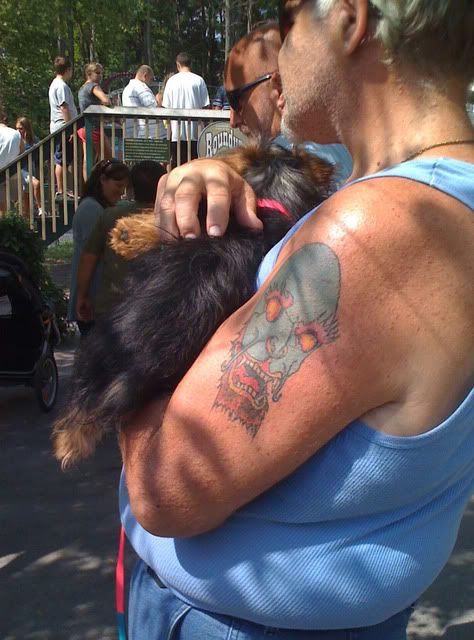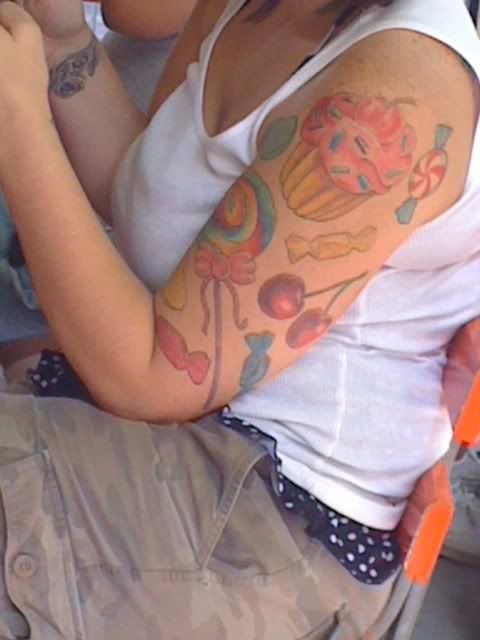 Sweet!


Yep, that's a fur vest. It was only 95 degrees after all.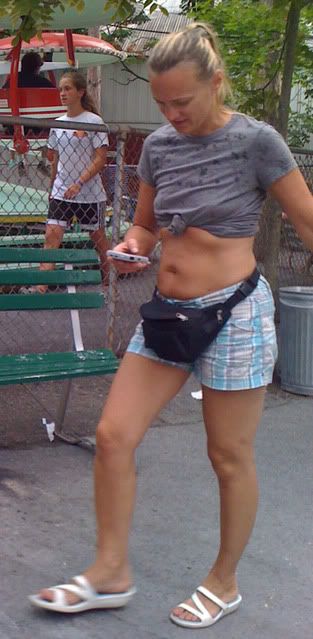 Stay back, fellas. She's all mine.

I'm pretty sure that's Dwight Schrute's cousin.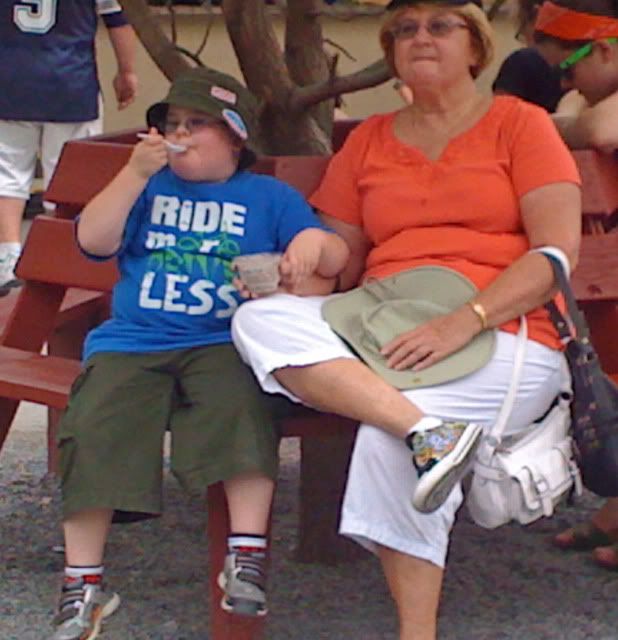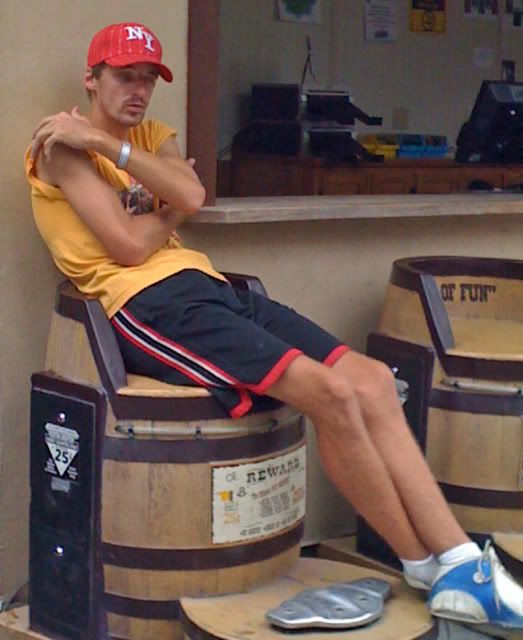 This sleepy-eyed fuck was sitting near a group of teenage girls (presumably his nieces) mumbling, "You got nice boobs," under his breath.

I thought it was a little strange that the park's train ride would run so close to the local prison.  So I asked the ride's attendant, turns out that's the pool area.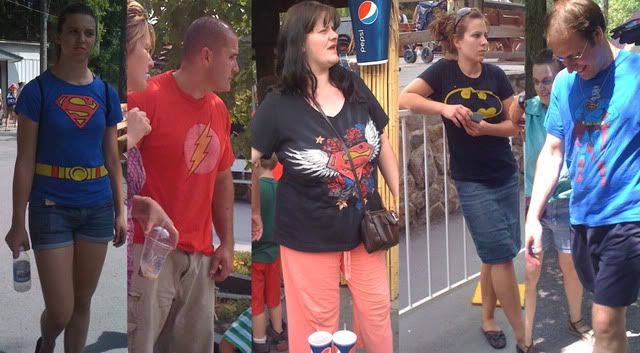 Despite some of the questionable characters we shared the park with, I still felt safe. People in Underoos have always put me at ease.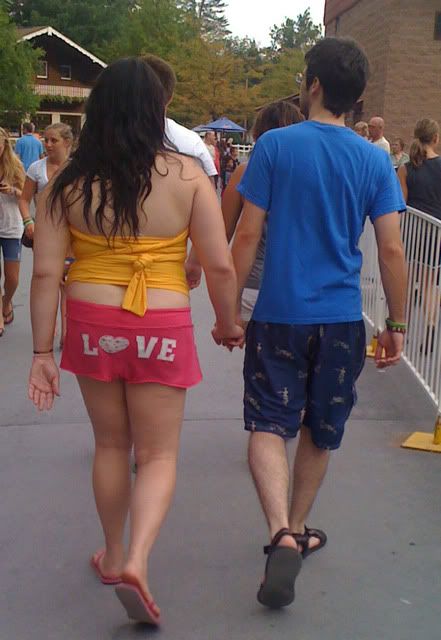 Thee End.
Stay tuned for part two – Knoebels: The Good, including my POV video from the front seat of the Twister roller coaster.