Killing Two Birds With One Stone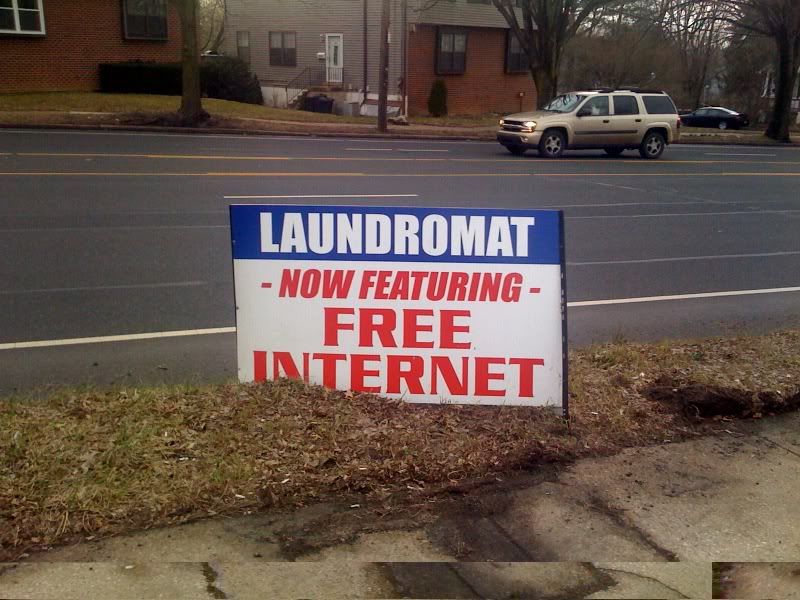 I drove past this sign the other day and thought to myself, "Now that's a stupid idea!" Who the hell would put that combination together? But I continued driving and thinking, and I now see its genius.
This trailblazing entrepreneur is not just offering convenience to his customers. He is not merely selling the opportunity to multi-task to his existing clientele. He is attracting a whole new breed of customer. When the word of his business gets out, people (men mostly) will come from miles around to avail themselves of FREE internet porn, rub one out, and wash their shorts (or sock, whatever) before they head home. They can also keep an eye on their investments while their load (yea, I said load) runs through the rinse cycle. Oh and I'm not talking about your regular, run of the mill guys here, I'm talking about guys who feel comfortable masturbating in a laundromat.
Genius, Mr. Laundromat Tycoon, I don't even think George Jefferson would have come up with this one.
And now for something on the philosophical side…
As is often the case, this train of thought led me to a much bigger, more fundamental question. We've all heard the old wives' tale that masturbating will make you go blind. (Have you ever looked at a blind person and thought, "Wow, this guy must jerk off a lot?") Were they actually predicting the arrival of the internet, and people staring bleary-eyed at porn sites at four o'clock in the morning, and the effects that would have on one's eyesight?
If so, the only place they could have possibly gotten such information is from that intrepid race of red haired aliens who descended from space in roughly 2700 B.C. bringing with them the secrets of advanced mathematics and the pyramids. Who else but an alien from an advanced civilization or Al Gore could have conceived of such a thing as the internet?