I'm An Excellent Driver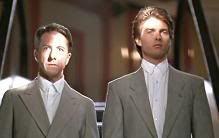 I hate that there are parts of my body that know it's going to rain before I even see the five-day forecast. It makes me feel old; old and weak; old, weak, and mortal. Ironically, if I had discovered this ability when I was eight, I probably would have thought I was a superhero. I would have no doubt called myself Rain Man, and lurched my way around town in a gray Armani suit with my white button down shirt buttoned up to my neck, kicking ass and counting cards.
I suddenly feel too depressed and feeble to continue writing. Besides, I definitely don't have my underwear on. Definitely.