Emo Hitler…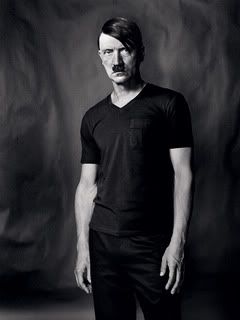 Ever wonder what goes through the mind of a crazed dictator like Adolf Hitler? Me either, but Emo Hitler sounds interesting as hell.  Here's his quick fact sheet:
Emo Hitler has a 'KEEP OUT… unless you have big boobs' sign on his bedroom door.
Emo Hitler just wants his parents' attention.
Emo Hitler is wondering, "What the fuck did Charlie Chaplin do to make everyone stop wearing our moustache style?"
Emo Hitler loves unicorns and sad music.
Emo Hitler loves blonde hair (and purple, and blue), but dark roots make him angry.
Emo Hitler hates A-Ha's song Take On Me, but he thinks the video is really cool.
Emo Hitler laughs in spite of himself when he watches the video of the wedding party dancing down the aisle on YouTube, and Hogan's Heroes.
Wait, Emo Hitler meant Hogan Knows Best.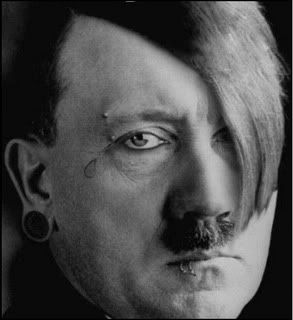 Emo Hitler attempted suicide twice.  It was the slice-across-the-wrist-attention-seeking kind of attempt, but still.
Emo Hitler has built a wall around his heart.
Emo Hitler wishes there were a German version of The Office.
Emo Hitler thinks Emo Philips is a hack, and has a gay hairdo.
Emo Hitler had nothing to do with the crash of the Hindenburg.
Emo Hitler insists there is no way that Van Halen is German.
Emo Hitler thinks Sean Penn has become too political, and wants to know what happened to that adorable towhead surfer dude, Jeff Spicoli.
Emo Hitler claims that the flower vase in the new VW Beetle was his idea.
Emo Hitler's Jersey Shore name is H-Train.
Emo Hitler loves you.
('
')