A Quick Little Sneaker Commercial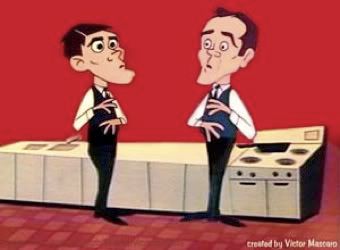 I swear, I don't know why I don't work in advertising. I'm a regular Darren Stevens (but which one?). Here's a commercial for New Balance running shoes that they will probably never use:
ANNOUNCER: … the synthetic/mesh upper offers an unbeatable combination of breathability and support while the ABZORB SBS cushioning absorbs shock on impact. Allow me to demonstrate, Kevin come in here a moment. Kevin, are you wearing your new New Balance sneakers?
KEVIN: Yes, I am.
ANNOUNCER: With the ABZORB cushioning system that absorbs shock on impact?
KEVIN: Yes.
ANNOUNCER: Kevin, you mother died earlier this morning.
KEVIN: Thank you for telling me, that must have been very difficult for you.
ANNOUNCER: The New Balance 749 Stability Running Shoe with ABZORB SBS cushioning… softening the blow.